FEATURES: MPs pay: how much are they worth?
MPs may be about to get a salary increase. Next week the parliamentary spending watchdog is expected to recommend a £10,000 rise, to £75,000. We ask them if they're worth it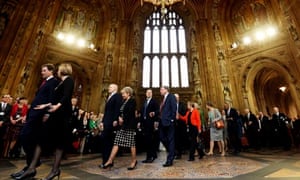 Glenda Jackson, Labour MP for Hampstead and Kilburn:
We're all facing hard times. This isn't a question of whether we should or shouldn't be on £66,000 a year. We're looking at severe austerity measures. I think this is a deliberately provocative move as far as Ipsa [the Independent Parliamentary Standards Authority, which was set up to oversee and regulate MPs' expenses] is concerned, and provocative in its worst sense. It has raised the question of our salaries in order to rouse the ire of the British taxpayer.
[Ipsa chairman] Sir Ian Kennedy came in believing he was the witchfinder general. His whole approach to his new job was, it seemed, to prove that every member of parliament is essentially corrupt. For MPs to give themselves a rise when everyone else's salaries are capped is ludicrous. For many politicians, being an MP can be financially difficult, but that's not the issue: they knew what it was going to be like. I've held jobs that have had higher and lower salaries. The money is irrelevant.
How much is an MP worth? You're playing Ipsa's game.
Edwina Currie, former Conservative MP and junior health minister:
There is no "right" salary for an MP – it's a unique job with unique responsibility – but if the proposed rise in MPs' salaries was linked to having fewer MPs then I would be in favour. I was always envious of the headteachers in south Derbyshire who earned a lot more than I did when I was in parliament. If I'd stayed in the teaching profession, or continued as a lecturer, I would have been on a higher salary than I was when I was an MP.
My responsibility as an MP was much greater, but my salary was less. I was happy to take a reduction in salary because I was doing a job I loved, and one that was useful, mportant and interesting. But I had to also be happy to live on my husband's salary: I couldn't have managed without. With low salaries, it becomes very difficult for people from normal backgrounds to become MPs. The nation suffers, because the House of Commons is supposed to represent the whole country.
How much is an MP worth? It's about right at £66,000. It's twice what I used to get.

Alastair Campbell, former director of communications and strategy to Tony Blair:
The furore over MPs' salaries is all part of an anti-politics agenda among the media and parts of the public that is damaging to politics and to the country. The last parliament was defined to some extent by the expenses scandal, which was real enough but unfortunately led to an impression – false – that most MPs are in it for themselves.
Our politics is far less corrupt than in most countries. In my experience most are hard-working, take their work both in parliament and their constituencies seriously, and are not doing it for the money. The combination of relentless negativity and relatively low salaries is bound to have an impact on the number of people prepared to consider politics as a career. I hope the current political leaders do not just pander to the mood of the moment.
How much is an MP worth? Politicians are central to our national life.
Sir Peter Bottomley, Conservative MP for Worthing West:
If I was paid for everything I did I would receive a fortune. I do it because I believe in free enterprise; in using my talents without reward. If an MP is not worth the money they are being paid, it would be better to change the MP than the salary. General practitioners of politics should be paid the same amount as general practitioners of medicine. But any figure can be right, any figure can be wrong: some politicians are new, some are old, some are also ministers, some are wealthy, some have people in their household who can support them, others are the sole earners and have dependents. I took a pay cut of 30% in order to become an MP.
How much is an MP worth? Any figure can be right, any figure can be wrong.
Guido Fawkes, aka Paul Staines, rightwing parliamentary blogger:
My initial reaction was, "They've got to be joking." Both sides of the government were in favour of restraining public-sector pay rises to 1%. They simply can't expect to take a pay increase themselves. They always say politicians don't get as much as headmasters, and that to attract the best people, you've got to give them more money, but MPs' earnings far exceed average earnings. Since the late 1970s their wages have tripled.
Comparison to private-sector roles is impossible. To become a GP you have to make life or death decisions on a daily basis. Backbench MPs only need to stay sober enough to make normal decisions. They shouldn't be in it for the money: it's a public service, and they are doing it for the country. Normal laws of supply and demand apply.
We're overpaying people who want to take these jobs – the last thing their salaries should be doing is increasing.
How much is an MP worth? They're 10 a penny.

Keith Vaz Labour, MP for Leicester East and chair of the Home Affairs Select Committee:
It is difficult to put a figure on a job that is so varied from day to day and hour by hour, and does not have defined contracted hours. MPs are removed from the process that decides their pay because we are employed by the public and not our colleagues. It is up to Ipsa to consult with the public over any review they make. I would accept an increase or a decrease in pay if that is what the independent body decides. Money is not the motivation for becoming an MP. It is for Ipsa to decide what a comparable role in the private sector is, and pay us accordingly.
How much is an MP worth? You take the salary you are given.

Nadine Dorries, Conservative MP for Mid Bedfordshire:
No MPs are asking for a pay rise. MPs may have given information in a good climate, when the economy was stabilised, which said that we probably think MPs' pay should be pitched around that of a headteacher or a junior doctor or GP (between £80,000 and 85,000). In an ideal world, politicians in the past would have been honest enough and brave enough to say that. As it is, we are where we are. We're in an economy of austerity. Nobody else is having a pay rise and neither should MPs.
How much is an MP worth? I've said everything I have to say.

Lindsay Hoyle, Labour MP for Chorley and deputy speaker:
I'm not sure Ipsa will even come through with this. But the question is: do the public want to give the decision about salaries back to MPs, or do they want to leave it to an independent body? My view is that MPs should never set their own pay. That was the public's demand and the media's also. As I understand it, Ipsa is planning to take away other payments to MPs so we don't yet know whether they will get a pay rise or not. I've never voted on my salary in the past and I have no wish to in the future.
How much is an MP worth? There's no way I'm falling for that.
https://www.theguardian.com/politics/2013/jul/05/mps-pay-how-much-they-worth